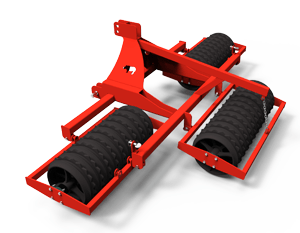 Cultivating roller HUGE 3.2
standard version
450mm Cambridge rings
Powder coating
Folded manually
Additional features (extra charge)
Cambridge rings: 500mm or 530mm
Crosskill rings: 350mm or 550mm
Inverted cap: 540mm
| Working width | Weight | Number of rings | Performance 10 km/h | Power requirements |
| --- | --- | --- | --- | --- |
| HUGE 3.2m | 980kg | 31 komp | 3.2ha | 60KM |
| Type of rings | Diameter | Weight HUGE 3.2m |
| --- | --- | --- |
| Cambridge rings | 450mm | 980kg |
| Cambridge rings | 500mm | 1050kg |
| Cambridge rings | 530mm |  kg |
| Crosskill rings | 350mm | kg |
| Crosskill rings | 550mm | kg |
| Inverted cap | 540mm | kg |
Cultivating roller HUGE 3.2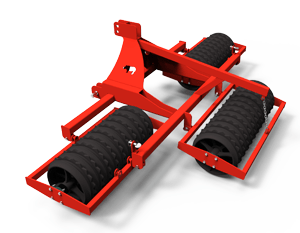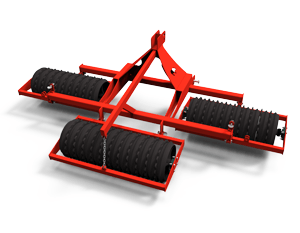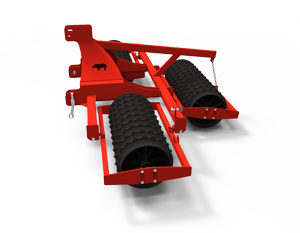 HUGE cultivating rollers are used primarily for levelling the ground and breaking up lumps. Rolling improves the soil texture, allowing for much better contact of seeds with soil, as well as improving plant growth. Rolling is a task mainly done on crop fields, but they are also used on turf soils and grasslands – it improves quality of crops over time. It also allows improves soil structure and prevents erosion.
HUGE roller accelerates decomposition of stubble and crop residues, and it can be used on grasslands. Its quality is exceptional thanks to the use of modern components and technologies, allowing for effective rolling. The machine has been powder-coated, preventing it from corrosion and unfavorable weather conditions.
Invest in your future with a modern cultivating roller – HUGE 3.2! We guarantee transportation of our products, warranty and post-warranty support, and a complete suite of replacement parts. Feel free to contact us – we will answer all your questions and provide an optimal solution.
Photo gallery for cultivating roller HUGE 3.2
Product question – cultivating roller HUGE 3.2